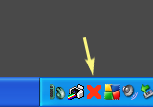 The picture on the left is a screenshot from my PC at work (the little arrow was added by me).  Notice it's pointing to the BIG FAT RED 'X' sitting there in my system tray.  I think to myself… "Hmmm…  That must be important.  Something must be terribly wrong with my computer and the BIG FAT RED 'X' is trying to notify me."  That's exactly what any sane, normal person would conclude, right?  Not so fast…
That little icon belongs to the UPS (uninterruptible power supply) attached to my computer, which happens to be made (or OEM'd) by Geek Squad. Okay, you can stop laughing now. Honestly, I didn't have much control over the purchase decision at the time. The brilliant software developer(s) who wrote the monitoring utility for this UPS decided, for whatever bizarre reason, to choose a BIG FAT RED 'X' as their application's tray icon. Of course, in fairness, it could have been some other non-techie department that made the icon decision. But regardless of how it got there, it was a horrible design choice. I mean, what better way to say "Hey, everything is running smoothly, nothing at all is wrong here" than with a BIG FAT RED 'X' sitting on your screen! Oh, and in case you're skeptical, here's a screenshot of the monitoring application to prove everything is running just fine. Notice how the programmer even used a custom 'X' graphic in the upper right corner of the application for closing the window. 'X' is apparently having some identity issues.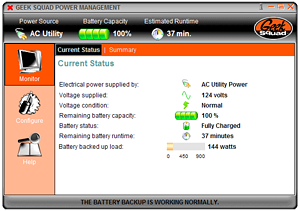 Personally, I've always used APC uninterruptible power supplies in the past, and it looks like I'll need to remember that in the future when the temptation arises to settle for something else.